The Teams
Wales lined up with a flat back 5 in defence, with a three man midfield and 2 up top. Wayne Hennesey, who was in good form for Crystal Palace at the time starting in goal, and hereby referred to as "Big Wayne" from now on. The 3 centre backs consisted of Swansea City captain Ashley Williams, West Brom defender James Chester, and Spurs left back Ben Davies, plying his trade as the left CB of the three. Williams had been a commanding, inspiring Captain throughout his Wales tenure, his no nonense, hard hitting take no prisoners oh watch out mate my nans Welsh Gwlad Gwald had hidden the fact that he was not even Welsh. He had shepherded a Premier League Quality defence throughout a great qualifying campaign, in a tight knit system in which everyone knew their roles and what they had to do to.
They were flanked by full backs Chris Gunter, Wales all time capped player, and Neil Taylor, Wales' most Neil Taylory player. Gunter and Taylor were Championship quality fullbacks, but the system they were in made them perform better as a team than individuals, with Gunter winning Wales Player of the year the year following this tournament.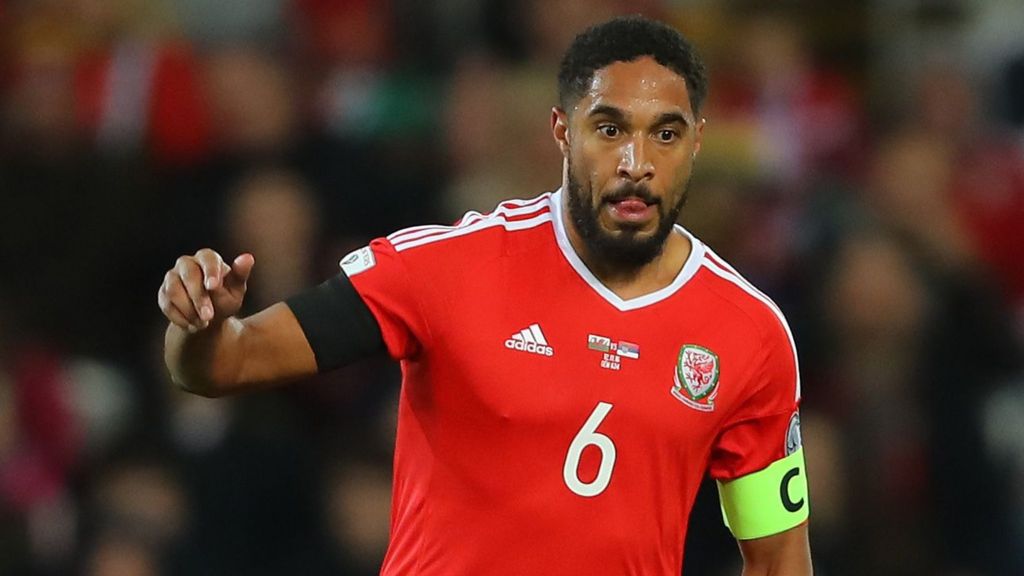 The midfield three consisted of Joe Ledley, fresh off a leg break and not playing any football before coming on as a sub in the opening game against Slovakia, Stoke City and former Liverpool midfielder Joe Allen, a Xavi like mystical figure who's passing %'s somehow were over 100, and one of the players of the whole tournament, not just for Wales, Aaron Ramsey. The Arsenal (and currently Juventus) Midfielder played more of a creative role, although not shirking his defensive responsibility, and was vital in his role for this side. Him missing the semi final vs Portugal was one of the biggest what-ifs in Welsh football.
The two up front were not a 2 up front as you would normally expect. One was Gareth Bale, Real Madrid star and Welsh talisman. When he got the ball you got on your feet, as he was known to just shoot for literally anywhere and it going quite well. He did what he wanted, employing a free role, cutting inside from either wing, playing down the middle and generally just doing whatever he liked. He was partnered a man. A man who's name is known in houses all across the Rhondda Valleys and in the Ale houses all across Cardiff, Swansea and beyond.
Hal. Robson. Kanu.
The greatest footballer to ever live, some claim (I claim and will continue to claim.) This man had no club before this tournament, having been released by Reading after a sub-par season. But he ran. Oh he ran. His job was to run, run, run, to stretch defenses so that Bale and Ramsey could work their magic. This team wouldn't have worked without any of these parts, but Robson-Kanu remains in the hearts and minds of every Welshman to this day, due to one reason that I will go into extreme detail later on in this post.
Wales 5-3-2 was built on the principle of being disciplined in defence, with tidy midfield who could keep possesion and wait for Gareth Bale and Aaron Ramsey to be the creative and attacking threats of the team, while Hal Robson Kanu pulls the defensive players out of position with his relentless running. The full backs primary function is defence, but also provide the width for the team, overlapping the midfielders, mostly the pull the ball back to the creative players, but also occasionally to put a cross in, especially when Sam Vokes, Burnley's 6 foot 4 towering striker, is on the pitch.
The Belgium team lined up in more of a 4-5-1 formation, With Romelu Lukaku the lone striker of the team. Axel Witsel played the deeper of the midfield three, with Rager Nainggolan and De Bruyne proving more of an attacking force in midfield. Hazard and Carrasco provided width out on the wings, with Hazard cutting inside more allowing Jordan Lukaka chance to overlap and whip balls in to his brother Romelu. The back 4 of Meunier, Deneyer, Aldeweireld and Lukaku were inexperienced as a quartet, with Deneyer and Lukaku's first minutes in the tournament coming in this game, with Vermaelen and Vertonghen missing for this game.
Kevin De Bruyne, deployed in the No.10 role in this match, is capable of drifting in around the back 4, including out wide, to provide unpredictable creativity to the other attackers. The issue with this team would be dealing with Wales well drilled team defending, which players like Hazard and De Bruyne would be ideal to do so.