Chris Jericho. Jon Moxley. Kenny Omega. These three men hold the distinction as the only men who can call themselves the AEW Champion. They are three of the top wrestlers not just in the company, not just in America, but in the entire wrestling world. They have won titles across continents and promotions and continue to dominate in the ring whenever they go. But who will be the next AEW Champion? Who has the skill and desire to take the belt from Kenny Omega and carry the company on it's back?
1. Hangman Page
For the next AEW Champion, look no further than the Hangman. Adam Page was actually the loser in the first AEW Champions Match, in which Chris Jericho was crowned champion. Since then, he has battled the loss of his friends and his problem with alcohol, become one half of the tag team champions, have his friends betray him and find a new group that truly believes in him. Page has been one of the best characters in AEW.
His story with Omega has been one of the deepest, most intriguing in AEW. Omega's betrayal of him after losing their AEW Tag Team title at All Out was one of the saddest moments in AEW, and the catalyst to turn Kenny to become the "Belt Collector" with the help of the dastardly Don Callis.
Hangman Page HAS to be the one to beat Omega. The story is being told right now, and started right back on that firs title match with Jericho. Hangman could not win the belt with the Elite. They were never really with him, they've gone that now. They're true motivation is gold, not friendship. But his new friends, The Dark Order, care for him, and will carry him to World Championship gold.
2. Maxwell Jacob Friedman
Hangman is rightfully the next champion, but his reign is destined to be a short one. Hangman thinks he is missing just one thing, now he has his friends. He thinks all he needs is the AEW World Championship until he is complete.
But he won't be. There is also something he is missing. When he had his drink, he was missing friendship. When he found the Dark Order, he needed the Championship. What will he need when he's champion?
He will need to prove himself. He feels inferior, so will seek to prove himself to be the best Champion in AEW history. His insecurities will allow other to take advantage of him, to lay his title on the line in the name of honour.
Cue MJF. No one in AEW will be able to control Hangman Page so psychologically than MJF. He can prey on his insecurities, make him put his title on the line in conditions favourable to MJF in the name of "Proving himself". He will cheat to win and take the thing Hangman loves most from him, causing him to spiral into depression once again, and isolate himself from his friends. His issues are a circle he has still not broken, and Hangman needs to look deep inside himself before he solves his issues and becomes an AEW Champion he can be proud of.
Until then, MJF will reign as the king of AEW's heavyweight division.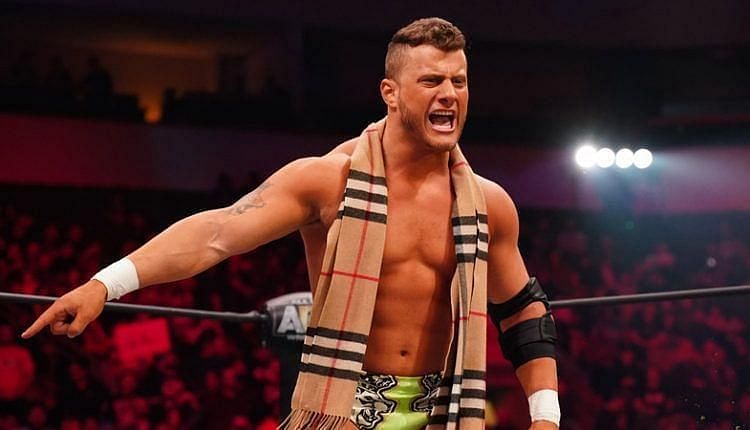 There is only one man who can end MJF's reign. That is the man who MJF doomed to never have a reign of his own. Cody Rhodes as AEW Champion HAS to happen. Apart from the feud with the Factory which I'm going to choose to ignore, everything Cody has done as felt like the main event, even if it wasn't.
Of course, Cody Rhodes CAN'T be Champion. He gave himself the stipulation after his lost to Chris Jericho at AEW Full Gear, due to MJF throwing in the towel for "The Roller Cod-ster". This is why MJF needs to be the one to goad Cody into a title match, but not because he wants to face him. Because he wants him to break his word, and show the world what kind of man he really is.
MJF can mock, annoy and pursue Cody Rhodes to try and make him give him. He knows he can beat Cody, he proved it in their one on one match at AEW Revolution. But he wants to PUNISH Cody. He'll beat down (maybe retire?) Dustin Rhodes, mock his wife and new baby daughter, and generally make his life a living hell. Maybe even be the first man to bring up his Dad, Dusty Rhodes. Cody Rhodes reportedly didn't want anybody in AEW bringing up his deceased father in promos to work an angle.
Cody can defeat MJF in a big main event like Double or Nothing, but it has to be clean. No shenanigans. Maybe inside a cage, to mirror his fathers win over Ric Flair at Starrcade 1986.
4. Jungle Boy
By this time, Jungle Boy will be more than ready to challenge for this Championship. I've written at length about why he is ready to be part of the AEW main event.
Jungle Boy tasted victory at AEW Double or Nothing, winning the Casino Battle Royale to earning a match against AEW World Champion Kenny Omega. I think to mirror this, he will defeat Omega to earn the shot at Cody Rhodes.
Cody can have a long or short reign; he has the ability to make either work. I feel that he is better as the chaser, and would have to be a heel for such a long reign. Despite this, I shall be keeping his face throughout this reign, and the Jungle Boy win will be a passing of the torch moment.
By that point, I presume that Jungle Boy will be split from his teammates Luchasaurus and Marko Stunt, and they can come and celebrate with him after the match for a feel-good moment. He will shake Cody's hand after the match, signifying the respect between the two of them.
5. HOOK
Hook is the future. Hook is the past. Hook is eternal. None have seen him yet he is watched by all. He is the bringing of Brian Cage and the man who stands needs to Ricky Starks.
Of course Hook isn't the next AEW Champion. But there could be anyone signed to AEW at that point, and who knows what young stars will be signed to AEW that have been plucked from obscurity, or developed through the Nightmare Factory training facility. It shows how exciting a future there is in All Elite Wrestler, and an unpredictability that breeds excitement.
Hamish is a writer and podcaster and wrestling fan who is a key part of the Atletifo team.
After playing countless hours of WrestleMania X8 on the Gamecube, he discovered Rey Mysterio getting his head crushed by The Great Khali, and thus a love for professional wrestling was born.
He is also a Media Graduate, as well as writing for multiple sites about Premier League football and the culture of Wales – his home country.