Jon Moxley and Orange Cassidy were meant to face off prior in AEW, but the match was cancelled due to some worrying personal issues for one of the competitors.
The two men could soon stand against each other in the ring in a huge match with the biggest prize in sports on the line – The AEW Championship.
They Were Meant To Face Off Before Full Gear
AEW originally booked Orange Cassidy vs Jon Moxley in the semi-finals of the AEW Eliminator Tournament. The winner of the tournament earned a shot at the AEW Champion at the time ("Hangman" Adam Page) for a future title match and contained some of the top stars in AEW.
While Bryan Danielson would await his final opponent for Full Gear 2021 after his semi-final win over Eddie Kingston, two men were booked in for a match the decide who would join him in the deciding round.
Alongside the American Dragon, the eight men chosen to compete in the 2021 AEW Eliminator Tournament were;
Bryan Danielson
Jon Moxley
Orange Cassidy
Eddie Kingston
Lance Archer
Dustin Rhodes
Powerhouse Hobbs
Preston Vance
Former AEW Champion Jon Moxley made it to the semi-final after trouncing Preston Vance in 2 minutes, building on some quick victories on AEW Dynamite against future stars like Wheeler Yuta, with a new, more aggressive attitude that hinted at a heel turn for Moxley.
He was due to meet Orange Cassidy in the semi-final, having achieved an impressive victory over Powerhouse Hobbs en route to a proposed match with Jon Moxley. This bout was due to take place on the November 3rd 2021 edition of AEW Dynamite, but would never take place.
Prior to the show, Tony Khan announced on Twitter that Jon Moxley was leaving AEW for an unspecified period of time to seek help for an alcohol addiction. He was given as much time as he needed by AEW and was applauded for his courage in seeking help in the face of debilitating addiction.
Jon Moxley vs Orange Cassidy was meant to main event the show, but this match would never take place (and still has yet to ever take place). Instead, Cassidy took on a mystery opponent which was not announced until that night, when former TNT Champion Miro made his return from injury to take his spot in the tournament.
While the return of Miro popped the live crowd, fans back home were disappointed. They were excited to see Orange Cassidy and Jon Moxley (two of AEW's biggest babyface stars) battling it out to try and earn a shot at the AEW Championship. Instead, Cassidy took on Miro and was disappointingly beaten in a fantastic match.
Miro would also go on to lose at Full Gear 2021 to Jon Moxley's future tag team partner Bryan Danielson, but fans were still left wanting to see the advertised Orange Cassidy vs Jon Moxley.
Jon Moxley vs Orange Cassidy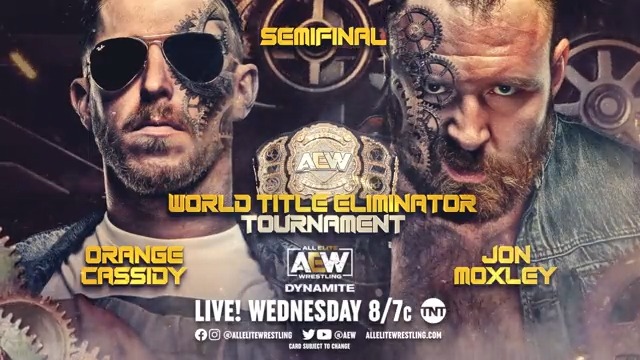 The match between the two stars could well still take place in AEW, and soon. Jon Moxley, now a member oft he Blackpool Combat Club, took on the team of Chuck Taylor and Trent Barretta (also known as Best Friends) at AEW Fyter Fest Night 3. Moxley teamed with Wheeler Yuta, a former teammate of Orange Cassidy and the Best Friends before he defected to join Moxley and co.
The Blackpool Combat Club defeated Best Friends (with the rivalry between Wheeler Yuta and Chuck & Trent being the key story told in the ring) in a fantastic Dynamite match which continued young Yuta's rise to stardom alongside Jon Moxley.
With Orange Cassidy on commentary, Jon Moxley led his team to victory in a match filled with heated tension. Cassidy sat quietly on the commentary as he watched his friends fall to defeat, but he managed to catch a glimpse of a man who may be a future opponent of his as moves towards an AEW Championship match.
DID YOU KNOW? Orange Cassidy challenged Kenny Omega for the AEW Championship at Double or Nothing 2021 and almost beat "The Cleaner" to win his first title in All Elite Wrestling.
As the holder of the AEW Championship, Jon Moxley is the prime target for anyone in AEW, especially a top star like Orange Cassidy. With a host of injuries befalling some top stars (like CM Punk and Bryan Danielson), it is the perfect time to hoist Cassidy back into the main event and in a blockbuster match against Jon Moxley, either on AEW Dynamite or at All Out 2022 in September.
With the Best Friends clearly holding a grudge toward Wheeler Yuta (Cassidy proclaimed "Chuck taught him that pin" after Yuta pinned Chuck Taylor for the win) this looks like it will bleed into a feud between the Blackpool Combat Club and Best Friends.
I fully expect this to lead to an AEW Championship match between Jon Moxley and Orange Cassidy, but who will come out on top in this incredibly anticipated championship main event match.
Who Will Win The AEW Championship?
If Orange Cassidy fights Jon Moxley for the AEW Championship, it is likely that Jon Moxley would emerge victorious. He is the first ever two-time AEW Champion and the frontrunner for the wrestler of the year award after a run that has led to some huge victories in AEW, including over Japanese icon Hiroshi Tanahashi.
Orange Cassidy is one of, if not THE, most popular face in AEW. However, it's clear Tony Khan does not view him to be on the level of the AEW Championship winners, like CM Punk, Kenny Omega or Adam Page.
It's certain he will not beat Jon Moxley, but Orange Cassidy while undoubtable put on another fantastic match which has put him in contention as one of the best and most charismatic in-ring performers in the entirety of AEW.
Who do you think will win in the Jon Moxley vs Orange Cassidy match when the pair finally step into the ring, one year after their match was cancelled due to Jon Moxley's personal issues?