"Cody Rhodes AEW Champion" has a nice ring to it. However, he himself made sure he could not be made so. But could he, somehow, go back on his word without losing his integrity? Find out below! IS CM PUNK COMING BACK TO AEW?
Cody Rhodes AEW Champion
Since the advent of All Elite Wrestling in 2019, one of the most popular stars in the company was Cody Rhodes. The former WWE Star, as Cody Rhodes and as the maniacal, face-painted Stardust, performed in the WWE since 2007 until his release in 2016. The son of legendary wrestler "The American Dream" Dusty Rhodes performed in tag teams with the likes of Hardcore Holly, Damian Sandow and even Randy Orton, but found more success on his own in his recent stint in AEW, being one of the cornerstones of the entire company.
Cody's, and maybe the whole companies, match came in AEW, at their first ever Pay Per View event, defeating his brother Dustin, formerly Goldust in the WWE, at AEW Double or Nothing. He also competed in classics against the likes of the late Brodie Lee, MJF and against Shaq of all people. He also introduced, became the first winner, first two time winner, and the idea behind the TNT championship, the companies secondary title. However, the one thing that has eluded a star of his size is the AEW World heavyweight championship.
The real issue with "The American Nightmare" is a stipulation that he, for some strange reason, brought upon himself, under seemingly no pressure and to the surprise of everyone. In one of his incredible promos, which due to the pandemic we have not had the pleasure of seeing in front a live crowd in some time, Rhodes rattles off a list of names. Eddie Graham, Cowboy Bill Watts, and his own father, Dusty Rhodes. He uses these names as an example of great champions in the past, who's legacy has been tarnished and their accomplished marked with an asterisk in the history books, due to one thing – being in charge. Each men listed, not unlike Cody, had power in the company, helped run it and decided who ended up on top and who ended up on the bottom. Looking at the history, those who book the company usually end up on top – to the detriment of the company most of the time, such as Kevin Nash booking himself to end Goldberg's streak in WCW, or when Vince McMahon had himself win the Royal Rumble in 1999. Cody uses these men as an example of what AEW is NOT going to be.
Cody, who was due to face Jericho a week later at AEW Full Gear for his AEW World Heavyweight Championship, lays down a simple stipulation – If he loses to Jericho, he will never, ever challenge for that title again. Not just while Jericho held the gold, but until the heat death of the universe and when Terry Funk finally hangs up his boots, Cody will not challenge for that title again.
Of course, Cody turning heel and declaring that null and void is the obvious solution. It's an easy fix, and fans will be enraged at a man of integrity like Cody would betray his word at take the title that frankly he is deserving of, once Hangman gets his shot at Omega that is (that is the best story in wrestling right now and I cannot wait for Hangman to take down Omega).
But that would be too easy. How would a face Cody Rhodes manage to win the AEW Title, whilst keeping his integrity and without the fans shitting all over it? Well here's how.
Part 1
First of all, this feud with QT Marshall and the factory needs to be finished. It's fine, I guess, QT is not a future star or anything but Anthony Agogo and Nick Comoroto look like they could be handy, Comoroto having had a great debut match against Jon Moxley a few weeks back. Lets say we get a Dustin vs QT Match, and then mb Cody, Dustin and someone else like Austin Gunn, to reward him for being so loud this past year, against the Factory trio. Cody wins of course, but Agogo looks like a star. They have a singles match in future, Cody makes Agogo look good and they both come out looking great, job done.
The important part then is the situation with the AEW Championship.
So far, the AEW World Heavyweight Championship (which after the demise of the IWGP Heavyweight title is the prettiest belt in all of wrestling) has been held by only 3 men. Chris Jericho, Jon Moxley and Kenny Omega. Jericho was the biggest name in the company, having wrestled in WCW and WWE since the attitude era and remaining one of the top stars since. Moxley was a newer star, shackled by the WWE who placed him ridiculous stories with inconsistent characters, eventually causing him to quit the company and become a much bigger star in AEW. Omega was a top wrestler in Japan, with incredible work rate and ring psychology, he was one of the main draws outside of the former WWE stars of AEW, along with his fellow Elite members, the Young Bucks. All three have put on incredible matches with younger talent, and have not been afraid to put anyone over or make anybody look good (for example, Jericho losing to Orange Cassidy, and the aformentioned match between Comoroto and Moxley) and have generally been fan favourites, despite the first and third winners being heels.
This is where we need to change it. Hangman is winning the belt off of Omega, that much is true. It's a story 2 and half years in the making and will be one of the most inspiring moments in AEW when it does – Overcoming losing his friends who abandoned him, and along with his new friends, Hangman beats his demons and wins the gold that eluded him since he lost to Jericho to become the first ever champ. Hangman walks out of a future PPV as champ, lets say Double or Nothing in August this year. Hangman wins with the help of the Dark Order and everyone cries and we go home all happy and nice.
Hangman will have a decent run. Not as lengthy as the previous champions, but he's no paper champ. Feuds with main event talent like Christian and Brian the Cage twins, Chris Jericho and even people like Miro and Orange Cassidy. Hangman will face all comers and will, through the power of friendship, vanquish them all. Obviously, after the inevitable Kenny Omega rematch where Hangman forgives Kenny for betraying him, with a very sentimental flying Buckshot lariat to the face. Give Hangman 6 months with the belt, then introduce his next challenger, the man to fell him and take AEW into a reign of terror that has not been seen since the Big Dog held the WWE Main event scene hostage from 2016 to about 2019.
Maxwell Jacob Freidman.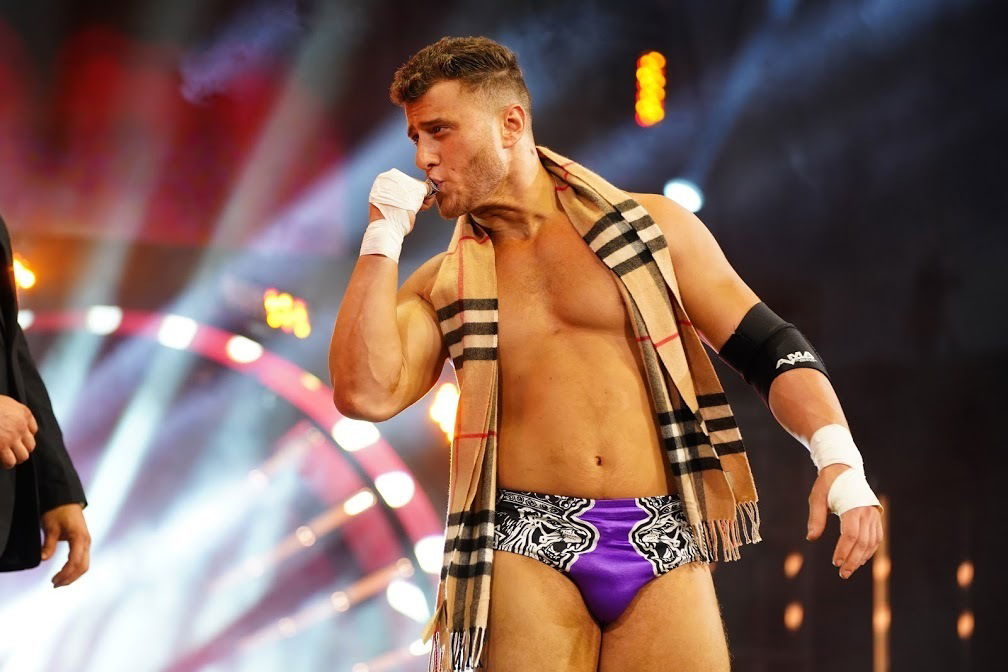 MJF is a main event talent. He's the future, some would argue the present, of AEW and wrestling as a whole. As a 25 year old, he is light years ahead of anyone else his age on the scene, and an absolute coup for Tony Khan to have signed back in 2019 when AEW began. Buoyed by the backing of his stable, the Pinnacle, MJF can leverage himself into number 1 contendership, beating Omega or Moxley at a major show to earn himself a shot at the title. The win will be with the help of the mighty Shawn Spears I'm sure, who is set to heavily miss out in the future of this article, and my wrestling plans as a whole.
MJF can cheat and swindle his way to beating Hangman. In the worst way possible, he will turn the Dark Order against Hangman, putting doubt in their minds and maybe offering John Silver a place in the Pinnacle which he will immediately go back on because come on, he is miniscule. And Alex Reynolds is there too, the Shawn Spears of the Dark Order. I'm joking slightly but really I am not a fan of the duo. MJF makes sure that the Dark Order don't save Hangman, hits the Anxious Millennial Cowboy with the Better than you or whatever his finisher is (I like the pendulum pile driver from the second rope) and becomes the youngest AEW champion of the 5 champions.
MJF is triumphant, and lords his new found gold above the heads of anyone who dares to get within eye sight of this absolute arsehole. Freidman battles foes new and old, snaking his way to wins with the help of the Shawn Spears Collective featuring the musical stylings of FTR. He holds the gold for as long as anyone, over a year even. He's so entertaining the fans wouldn't be turned off, but such a good heel you just cannot stand to see him being a smug git any longer. The fans will be crying out for a hero. Someone who's got to be strong, and be fresh from the fight. Someone who only knows some of the lyrics to that song from Shrek 2.
"Dustin, to the castle!" Cody shrieks as he rights his brother straight to the AEW Arena.
But how will Cody dethrone the awful MJF? Will Cody Rhodes become AEW Champion. Does "Cody Rhodes AEW Champion" sound like someone that can carry AEW into the next 10 years?
Find out next time. IS TAY CONTI THE NEXT BIG STAR OF AEW?
Check out some of my other posts here AND here
Hamish is a writer and podcaster and wrestling fan who is a key part of the Atletifo team.
After playing countless hours of WrestleMania X8 on the Gamecube, he discovered Rey Mysterio getting his head crushed by The Great Khali, and thus a love for professional wrestling was born.
He is also a Media Graduate, as well as writing for multiple sites about Premier League football and the culture of Wales – his home country.